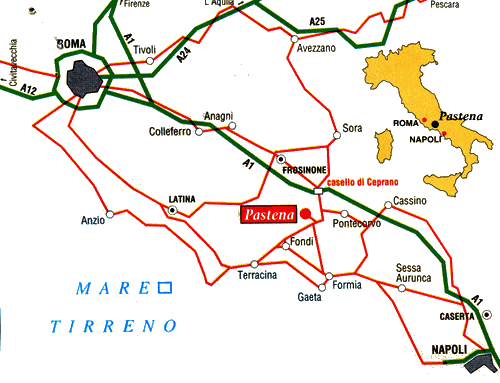 The Caves of Pastena are reached crossing the highway of the Sun Rome - Naples (A1) going out to the tollgate of Ceprano, from where he takes the road for Falvaterra up to reach the inhabited center of this paesino.
You continues therefore for Pastena passing for the Plan "Madonna of the Stains" where it is crossed, on a small bridge, the fiumicello "Ledger Ditch."

Once reached Pastena him it continues in direction of Castro of the Volscis and to 4-5 kms an alternative it is reached from which a road issues well to the right him with evident indications, that conducts to the square of the Caves, situated to a height of around 40 meters in comparison to the entry that is to 165 meters on the level of the sea.
For the one who comes from the sea, it has to cross the government road Appia, to go beyond Funds, to go himself/herself/themselves toward Lenola and therefore directly toward Pastena.
traslate L&H Power Traslator